Paint Your Own Pottery!
voted #1 best family entertainment in Williamson County!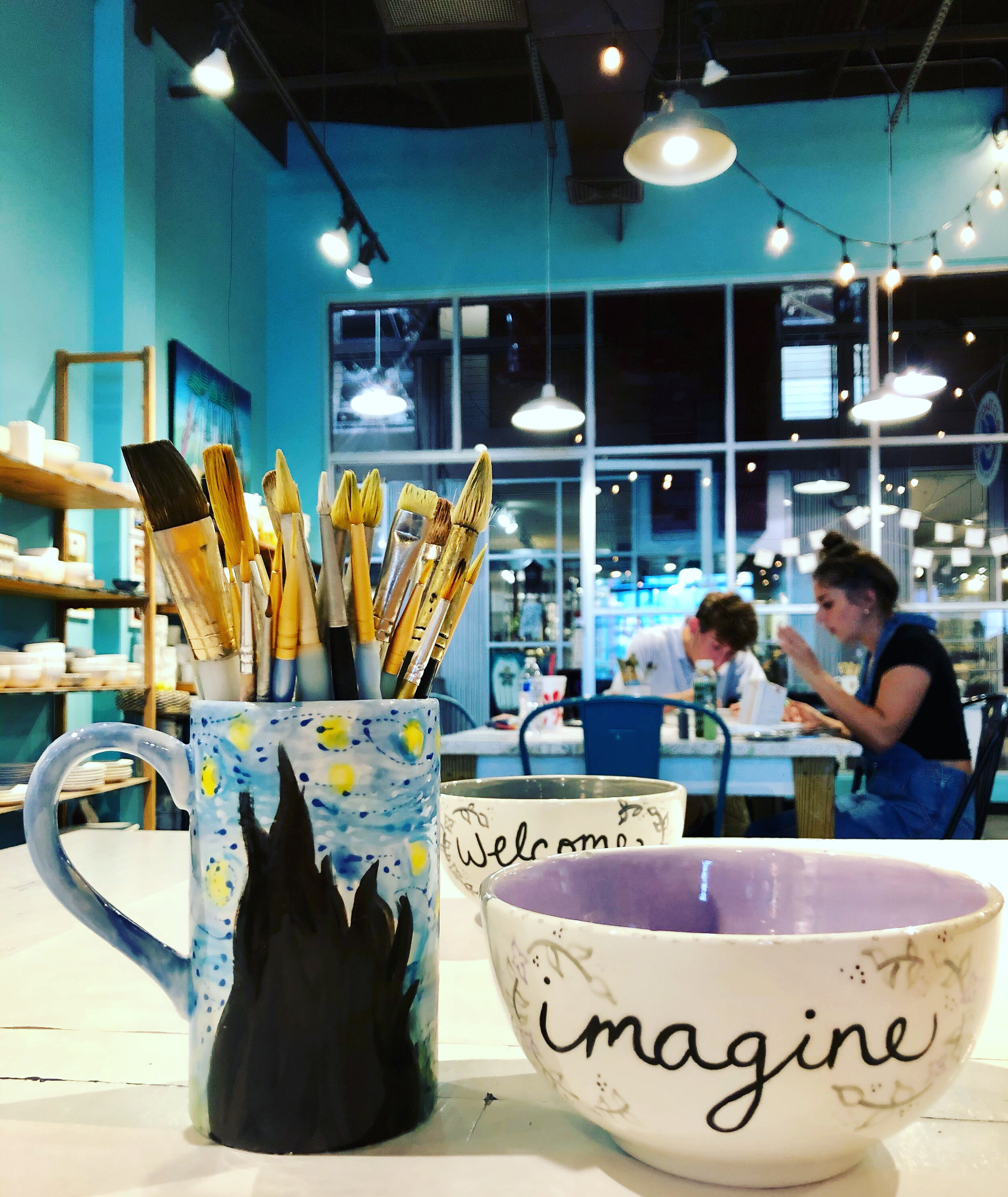 How It Works
We're open daily on a walk-in basis. You pick your pottery and paint it with our supplies. Pottery is glazed and fired and ready for pick up in 7 days. Arrive at least 90 minutes before close to paint. Most adults need about 2 hours. Call to make a reservation for groups of 6 or more.
What it Costs
$8 per person studio fee + the price of the pottery. Studio fee covers all supplies + firing. Pottery is priced from $8-$68 but most pieces are under $20. We do ship for an extra fee.
Kids Groups & Parties (12 and under)
During peak hours (weekends & holidays) we limit our kids groups to 8-9 painters and 1-2 supervising adults. This is a drop off party - all guests must be seated and space is limited to 10 people max. If you have 11 or more, you will need to schedule during non-peak hours or order a Party-to-Go kit. See below. Call to reserve your party table for up to 10 people. Email us to plan your larger group event.
As a reminder, we do not have a party room so we don't allow food and decorations to be brought into the studio but you may enjoy the Factory restaurants before or after you paint. Ask about our weekday specials for scout troops and homeschools.
Adults & Teens
Due to limited space on weekends and holidays, we can reserve seats for up to 14 adults at our two front tables for 2 hours max. No food is allowed in the studio but beverages are welcome. Call to reserve your group of 6-14 people or email us to plan your larger group event during non-peak hours.
Party-to-Go!
We offer a party-to-go option that includes all paints and supplies to paint at home. You just purchase your pottery and bring all pieces back to fire. The cost is $60 for up to 8 painters + the cost of the pottery. $2.50 per additional painters. Please give us 48 hours notice to prepare your order. Call us to pre-order your party to go kit. If you have fewer than 8 painters, you can purchase to go paints for $2-$4 each + the cost of the pottery.
230 Franklin Rd., Franklin 37064
We're in Building 11!
(615) 599-2200